The European Union, Russia and the Post Soviet Space: Shared Neighbourhood, Battleground or Transit Zone on the New Silk Road? Editors: Viktoria Akchurina and Vincent Della Sala. Publisher: Routledge, 2023
Downloads
Download data is not yet available.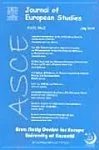 Downloads
How to Cite
Ms. Syeda Urooj Kazmi. "The European Union, Russia and the Post Soviet Space: Shared Neighbourhood, Battleground or Transit Zone on the New Silk Road? Editors: Viktoria Akchurina and Vincent Della Sala. Publisher: Routledge, 2023". Journal of European Studies (JES) 39, no. 2 (July 4, 2023): 113. Accessed September 21, 2023. https://asce-uok.edu.pk/journal/index.php/JES/article/view/319.
Section
Book/Article Review(s)
License
This work is licensed under a Creative Commons Attribution 4.0 International License.