Russia-Ukraine Imbroglio: An Appraisal
Keywords:
Russia-Ukraine war, Conflict Management, Collaborating Approach, Bargaining Approach, Realism.
Abstract
The impact of the political imbroglio involving Russia and Ukraine is complex and multi-layered. The proximity of Kiev and Moscow raises questions about the nature of relations between Ukraine and the West, which plays a vital role in managing the conflicts around the world to shape the future of the nations in political and economic dimensions. This study puts forth a proposition to observe in the background of the Russia-Ukraine war. The research has applied collaborative and bargaining approaches towards conflict management given by Thomas and Kilmann.
The study recommends that Ukrainian identity, legitimacy of authority and sovereignty should be restored. It is also suggested that the crisis can be solved with sustained and well-intentioned negotiations for conflict resolution, immediate referendums under international surveillance in disputed territories, the complete demilitarisation and non-alignment of Ukraine. The research intends to observe to what extent Western powers play their role in facilitating the dialogue instead of using Ukraine for their political agenda. There is a dire need to revisit trust-building measures between the two neighbours on the ground of their national interests and regional policies. The complicated nature and its far-reaching influence of the crisis demand an urgent handling and an enduring solution before it spirals out of control and the whole region has to bear its insidious outcomes.
Downloads
Download data is not yet available.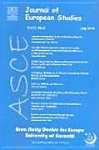 Downloads
How to Cite
Mr. Muhammad Kamran Fiaz, Dr. Rafida Nawaz, and Dr. Fatima Ali. "Russia-Ukraine Imbroglio: An Appraisal". Journal of European Studies (JES) 39, no. 1 (January 2, 2023): 17. Accessed June 1, 2023. https://asce-uok.edu.pk/journal/index.php/JES/article/view/286.
Section
Research Articles
License
This work is licensed under a Creative Commons Attribution 4.0 International License.