Absolutism vs. Limited Government: A Genealogical Overview of Ruptures and Continuity in Catalan Nationalist Struggle
Keywords:
Spain, Nationalism, Catalan, Absolutism, Limited Government
Abstract
Nationalist movements and civil wars of national (in)cohesion are recurring patterns in history of Spain. Since its inception in 1469, after the Royal marriage of Isabella and Ferdinand and merger of their states in Spanish union;, the state is facing the paradox of evolving a political system for culturally diverse sub-national groups like Basque, Galician and Catalan. One recent event of (in)cohesion is declaration of direct rule by Spanish Senate in response to Catalan parliament declaration of independence on 27 th October 2017.
The prime cause of ethnic nationalism in Spain, according to this historical comparative study; aimed at tracing the genealogy of Catalan nationalist struggle; is merger of different regions and people at different stages of economic and political development in a single political system. Catalan was on climax of renaixena, with a mature civil society aware of communal rights and common good while Castile was still in medieval mode of establishing absolute monarchial authority. After the death of Ferdinand, region detested all efforts on Castilian part to relegate it to status of internal colony or a Castilian province, whether it was the events of 1640 followed by Twelve Years War, Spanish war of succession 1714, and Franco Civil War 1936-39.
The paper will provide an account of rupture and continuity to contest authoritarian, absolutist, totalitarian tendencies of central government by Catalan. Furthermore the paper will give perspective scenarios and present costs-benefits analysis of secessionist nationalism for both regions Spain and Catalan at present.
Downloads
Download data is not yet available.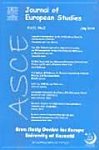 Downloads
How to Cite
Dr. Rafida Nawaz, Dr. Muqarab Akbar, and Mr. Syed Hussain Murtaza. "Absolutism Vs. Limited Government: A Genealogical Overview of Ruptures and Continuity in Catalan Nationalist Struggle". Journal of European Studies (JES) 37, no. 2 (July 1, 2021): 36–50. Accessed November 29, 2023. https://asce-uok.edu.pk/journal/index.php/JES/article/view/196.
Section
Research Articles
License
Copyright (c) 2021 Journal of European Studies (JES)
This work is licensed under a Creative Commons Attribution-NonCommercial 4.0 International License.