Jacques Derrida's Marxism: An Althusserian Analysis
Keywords:
Return to Marx / Return of Marx, Althusserianism, Otherness, Neo-liberalism, Teleology, Neo-Hegelianism
Abstract
The on-going research study tends to conduct the textual analysis of Spectres of Marx: The State of Debt, the Work of Mourning and the New International (1994) by Jacques Derrida (1930-2004) to discuss and trace the impact of Marxism on him and in turns his responses towards it. He defended Marxism against world capitalism in the post-Cold War "New World Order" after the fall of Communism in 1989. He made a great contribution to the development of Marxist discourse from a deconstructive perspective. Therefore, the research paper focuses on the question, how did Derrida come under the influence of Marxism in his later career? It is mostly concerned with the critical responses of Derrida's contemporary Marxist critics to Derridean deconstruction in general and to the publication of the book cited-above in particular as well as Derrida's responses to them. In this way, the study attempts to explore the ways in which Marxism and deconstruction encounters and influences each other. Though it mainly concentrates on Derrida's text on Marx, his other works also come under discussion. Althusserian Marxist hermeneutics has been employed as the theoretical and analytical framework in this textual study.
Downloads
Download data is not yet available.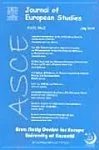 Downloads
How to Cite
Mr. Javed Akhter, and Dr. Naseem Achakzai. "Jacques Derrida's Marxism: An Althusserian Analysis". Journal of European Studies (JES) 39, no. 2 (July 4, 2023): 91. Accessed September 21, 2023. https://asce-uok.edu.pk/journal/index.php/JES/article/view/318.
Section
Research Articles
License
This work is licensed under a Creative Commons Attribution 4.0 International License.