Pakistan-Poland Economic Relations and Regional Connectivity: Challenges and Opportunities
Keywords:
Pakistan, Poland, Regional Connectivity, international Regime, Neo-Liberalism, Interdependence
Abstract
Pak-Poland relations have pre-partition history when in 1944, Nazi Germany attacked the USSR, and almost thirty thousand Polish refugees were settled in Karachi. In 1947, after the Independence of Pakistan, Poland helped Pakistan establish its air force and space program. Its officers participated in Indo-Pakistan war of 1965. The trade relations between the countries flourished during this era but our relations reached a new height when Poland became a democratic republic in 1989, joined NATO in 1999, and became a member of the European Union in 2004. Polish support for Pakistan to get GSP Plus status in the EU and President Musharraf's first-ever visit as a head of state propelled their bilateral trade to €500 million in 2018. Both countries have the potential to increase trade in the fields of oil & gas, maritime, energy, technology, infrastructure and tourism, but both should increase regional connectivity. The strategic location of both countries can provide them with a unique opportunity to increase regional connectivity. However, initially, both have to ensure the availability of direct air connectivity, people-to-people contacts, accessibility of easy visas, and smooth immigration policies. The future of their bilateral relations depends upon how both countries will find the solution to the prevailing issues and what actions will both take to facilitate greater trade and connectivity.
Downloads
Download data is not yet available.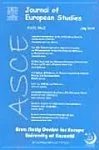 Downloads
How to Cite
Dr. Manzoor Afridi, and Mr. Naveed Anjum. "Pakistan-Poland Economic Relations and Regional Connectivity: Challenges and Opportunities". Journal of European Studies (JES) 39, no. 2 (July 4, 2023): 13. Accessed September 21, 2023. https://asce-uok.edu.pk/journal/index.php/JES/article/view/312.
Section
Research Articles
License
This work is licensed under a Creative Commons Attribution 4.0 International License.