The Historical Narration of Polish Refugees in British India
Keywords:
Refugees, Polish, Camps, Karachi, Quetta, Valivade-Kolhapur, Balachadi, World War II, History
Abstract
This paper aims to analyze the history of Polish refugees who came after the second world war in different areas between 1942-1946 especially resided in the temporary camps on the territory of today's Pakistan i.e., Karachi and Quetta. It focuses on the main three camps including Quetta Camp, the Country Club Camp in Karachi and the Malir Camp. The Polish refugees who left the USSR during the second world war were called by many an "inhuman land". Nearly 325,000 Poles migrated at the beginning and went to different parts of the world.
The very first Polish refugee camp was established in Iran but due to overpopulation, and because of the country's political situation, it had to relocate them to other areas. Through, Iran, Afghanistan and Turkmenistan, they came to Karachi Port and Quetta too and between 1942 to 1946.
Downloads
Download data is not yet available.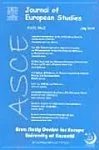 Downloads
How to Cite
Dr. Magdalena Kumelska-Koniecko. "The Historical Narration of Polish Refugees in British India". Journal of European Studies (JES) 39, no. 2 (July 4, 2023): 43. Accessed September 21, 2023. https://asce-uok.edu.pk/journal/index.php/JES/article/view/314.
Section
Research Articles
License
This work is licensed under a Creative Commons Attribution 4.0 International License.