Poland and Pakistan as Hubs of the Belt and Road Initiative
Keywords:
Pakistan-Poland, history, Belt and Road, Eurasia, trade relations, diplomatic ties
Abstract
Poland and Pakistan are linked on various levels ranging from commercial to diplomatic. However, a factor that has attracted little consideration in the analysis of the relations between these two countries is the role that the aforementioned countries cover within the project promoted by the People's Republic of China namely, the Belt and Road Initiative. The two countries play different roles in very distant sectors, nevertheless, they can be considered key players at a macro-continental level due to the geographical and political position they play in their region. These factors of influence and prestige could raise with the increase in international relations of a commercial and human nature that would occur following the construction of a large Eurasian infrastructural network. This article intends to investigate this perspective. It leads to another question, the answer to which must be investigated in the context of the hypothetical future: is it possible that the Belt and Road Initiative also increase the existing relationships between these two countries? And – would trade between Poland and Pakistan be distorted to the advantage of other neighbouring countries or would it increase in volume?
Downloads
Download data is not yet available.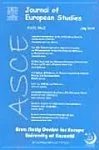 Downloads
How to Cite
Mr. Orazio Maria Gnerre. "Poland and Pakistan As Hubs of the Belt and Road Initiative". Journal of European Studies (JES) 39, no. 2 (July 4, 2023): 1. Accessed September 21, 2023. https://asce-uok.edu.pk/journal/index.php/JES/article/view/311.
Section
Research Articles
License
This work is licensed under a Creative Commons Attribution 4.0 International License.