European Energy Crises, Climate Action and Emerging Market of Carbon-Neutral LNG
Keywords:
Liquified Natural Gas, Carbon-neutral LNG, European Energy Crisis, emissions calculations, Climate Change.
Abstract
Liquified Natural Gas (LNG) has received world-wide attention due to its growing market demands as pointed out by International Energy Agency (IEA), and McKinsey. This article aims to observe contemporary European developments in accordance with the Union's energy strategy and the Paris Agreement. With the reduction in import of Russian gas, purchasing LNG became an alternative policy option to meet overall energy needs in Europe. European governments and companies are making large investments in land-based regasification terminals and floating storage and regasification units (FSRUs). These trends have fueled hopes that Europe may be able to avoid the worst-case scenario of massive gas shortages, rationing, and industrial shutdowns in the coming months. Nonetheless, such positive short-term developments should not obscure the challenges Europe's energy-dependent industries are facing due to high gas and electricity prices, which will likely remain elevated for some time. Industries with gas-intensive production or with high absolute demand for gas could still see disruptions during this winter.
Moreover, this article also evaluates the role of carbon-neutral LNG in European energy crises and its link with eco-friendly processes as set out by the EU and its consequences for the Asian market. The major findings include that the existing carbon measurement framework does not meet the global needs of the LNG industry. Moreover, the breadth of LNG usage is linked to viable GHG emission framework availability.
Downloads
Download data is not yet available.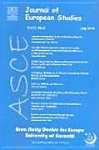 Downloads
How to Cite
Dr. Shamas ul Deen, and Ms. Sadaf Farooq. "European Energy Crises, Climate Action and Emerging Market of Carbon-Neutral LNG". Journal of European Studies (JES) 39, no. 1 (January 2, 2023): 33. Accessed November 29, 2023. https://asce-uok.edu.pk/journal/index.php/JES/article/view/287.
Section
Research Articles
License
This work is licensed under a Creative Commons Attribution 4.0 International License.