Revival of Russian Language in Central Asian Republics in the Twenty First (21st) Century
Keywords:
Russia, Central Asian Republics, Revival, Russian Language, Economics, Language Policy
Abstract
Russian language went into a decline during the 1990s when Central Asian Republics (CARs) simultaneously embarked on the process of nation and state building along with economic transition. The CARs desired to diversify their political and economic relations and to lessen their dependence on Russian Federation during their early transition period. Due to its own economic and political problems associated with its transition, Russia could not pay full attention to its former Soviet states during the immediate post-Soviet period. However, due to the Tsarist and particularly Soviet legacies, the economic connectivity and interdependence of former Soviet states on Russian Federation proved long lasting. The revival of Russian language in former Soviet Central Asian Republics is mainly due to the theory of Economics of Language which explores mutual effects of language and economic variables. It says that fluency and command over a dominant language i.e., a language of science and technology and trade provides more dividends. The CARs are still heavily dependent on trade and remittances of their nationals working in Russia. A large number of workers from the countries of Central Asia work in the Russian Federation. Their remittances contribute immensely to the Gross Domestic Product (GDPs) of these countries. The CARs re-started promoting Russian language in their countries due to a significant role of this language in their economies and economic relations with Russia. Since 2000, the Russian economic revival has naturally strengthened its political and economic role in the former Soviet space which also includes Central Asia. Consequently, the Russian language also received fresh emphasis.
Downloads
Download data is not yet available.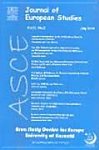 Downloads
How to Cite
Ms. Noor Jehan, and Prof. Dr. Shabir Ahmad Khan. "Revival of Russian Language in Central Asian Republics in the Twenty First (21st) Century". Journal of European Studies (JES) 38, no. 2 (July 1, 2022): 18–37. Accessed December 6, 2022. https://asce-uok.edu.pk/journal/index.php/JES/article/view/253.
Section
Research Articles
License
This work is licensed under a Creative Commons Attribution 4.0 International License.